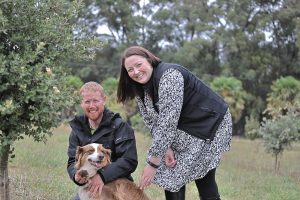 Our dream of growing truffles started in 2007 when truffle growing was still relatively new in Australia. At this time, there was a lot of missing knowledge and much experimentation going on so in 2008, Colin and Nathan travelled to Europe to study the science behind growing truffles. This was an invaluable learning experience and set us on the path to where we are today.
Being a small family run business, we are passionate about growing truffles. Something that sets us apart from other truffle producers is that on our farm in Gembrook we don't just grow truffles, we also own and run Trufficulture, the premier truffle inoculated tree production nursery in Eastern Australia. We are proud to supply truffle inoculated trees that produce the famous french black, summer black and bianchetto white truffles.
Situated just an hours drive to the east from Melbourne the farm is on some of the best and most pristine soils the country has to offer. Average annual rainfall for the area is 1000mm. Water quality is excellent. Truffles need well drained soils with a sunny aspect and Gembrook provides the ideal requirements.
The farm has 3 plantings of truffle trees. The first block of 270 trees was planted as somewhat an experiment back in 2010. In 2014 (4 years post planting) the first truffle was discovered under a French Oak.
Block 2 was planted in July 2014 – three different truffle species were planted including french black, summer black and bianchetto white truffles, all of which are producing well.
Block 3 was planted in July 2019 with trees inoculated with french black truffle. We are looking forward to finding truffles in this block in the next couple of years. 
All of our trees have been grown and inoculated here in our nursery in Gembrook. All three blocks of trees have their differences including types of lime applied, tree density, orientation, pruning and cultivation. There is so much to experience from visiting our farm.