Enjoy a morning or afternoon of truffle hunting with truffle dog "Willow" on our family farm in Gembrook, just 60 minutes drive from Melbourne's CBD.

We are currently closed for the remainder of 2023 as the truffle season has come to an end. We look forward to welcoming you back when we reopen next year.
Duration: 3 hours
INCLUSIONS:
• Guided truffle hunt with our trained truffle dog Willow
• Opportunity to witness fresh ripe truffles being located and harvested from the ground
• Truffle information session
• Truffle tasting at Hairy Dog Cafe in Gembrook
Experience the captivating world of truffles like never before. Join us for an unforgettable guided truffle hunt led by our expertly trained truffle dog, Willow. Prepare to be amazed as you witness the remarkable moment when fresh, ripe truffles are located and carefully harvested from the earth.
Immerse yourself in a fascinating truffle information session, where our knowledgeable guides will unveil the secrets behind the intricate symbiotic relationship between a tree's roots and the enchanting truffle fungi. Gain a deeper understanding of this extraordinary culinary treasure as you learn about its history, cultivation, and its revered place in the culinary world.
As an integral part of your experience, prepare to tantalize your taste buds with the unparalleled indulgence of truffles served to you in a variety of tasting options by the staff at "Hairy Dog Cafe" nestled just a mere five minutes away from our farm. Impeccable service and a warm, inviting atmosphere create the perfect backdrop for your truffle-infused odyssey.
As you dine, bask in the knowledge that the truffles you are savoring were nurtured with care and dedication on our nearby truffle farm. This close proximity ensures that only the freshest and most exceptional truffles find their way onto your plate, guaranteeing an unparalleled taste sensation that is truly farm-to-fork.
For those souls who wish to bring the truffle experience home, a limited number of fresh truffles and inoculated truffle trees will be available for purchase on the day.
At Gembrook Truffles, we eagerly await the opportunity to welcome you into our world of truffle wonder. Join us for an unforgettable journey where nature's treasures and culinary delights intertwine in perfect harmony.
We look forward to welcoming you.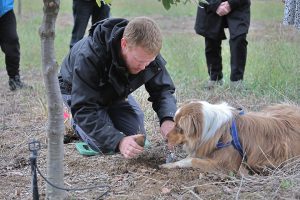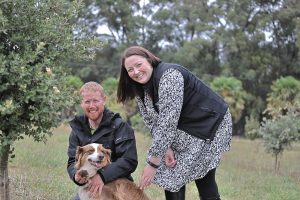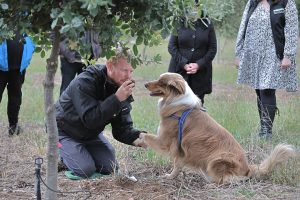 PLEASE NOTE:
Pre-booking is essential
Please plan to arrive 15 minutes prior to the allocated start time
The terrain of the truffle orchard is slightly sloping (not steep), but generally easy walking. Ample parking opposite the orchard is available.
Winter days are chilly, and the ground is grassy and potentially wet. As primarily an outdoor experience we would advise warm clothing with a jacket or umbrella and solid shoes be worn.
Biosecurity – we require all guests to clean their own footwear prior to entering the orchard (a foot bath is provided). Please wear appropriate enclosed footwear.
Our hunts are designed to adhere to any restrictions/recommendations that are in place at the time. All tickets will be fully refunded if hunts need to be cancelled or guests are unable to attend due to COVID-19 restrictions.