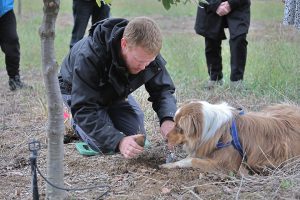 Enjoy a morning or afternoon of truffle hunting with truffle dog "Willow" on our family farm in Gembrook, just 60 minutes drive from Melbourne's CBD.

Price: $140.00
Duration: 2 hours (10am – 12pm or 2pm – 4pm)
INCLUSIONS:
• Guided truffle hunt with our trained truffle dog Willow
• Opportunity to witness fresh ripe truffles being located and harvested from the ground
• Truffle information session
• A taste of truffle, deliciously served in a variety of ways
• Light refreshments
At Gembrook Truffles, your experience includes a short and informative presentation about truffles, where you will have the opportunity to learn about the intricate symbiotic relationship between a tree's roots and the truffle fungi. We will then move out into the Truffiere for the hunt, where Willow will walk the rows of trees in search of truffles. Once a truffle has been marked, you will be invited to have a turn locating the truffles beneath the soil and unearthing the black gold.
We will then move to the cozy "Truffle Den" where you will be offered a delicious morning / afternoon tea including a taste of the truffle harvested earlier in the day as well as an assortment of tea / coffee / juice etc.
For those that wish to buy fresh truffle or an inoculated truffle tree to take home, there will be a small number available for purchase on the day. Any purchase of fresh truffle will come with a complimentary recipe booklet and information about how to maximise your at-home truffle experience.
We look forward to welcoming you.
PLEASE NOTE:
Pre-booking is essential
Please plan to arrive 15 minutes prior to the allocated start time
The terrain of the truffle orchard is slightly sloping (not steep), but generally easy walking. Ample parking opposite the orchard is available.
Please advise any special dietary requirements via email to info@gembrooktruffles.com.au stating your name and the date of the booking.
Winter mornings are chilly, and the ground is grassy and potentially wet. As primarily an outdoor experience we would advise warm clothing with a jacket or umbrella and solid shoes be worn.
Biosecurity – we require all guests to clean their own footwear prior to entering the orchard (a foot bath is provided). Please wear appropriate enclosed footwear.
Children under 12yrs are welcome to attend our truffle hunts with prior arrangement ONLY. Please contact us on 0402748640 or email info@gembrooktruffles.com.au to discuss. Children 12yrs and over are considered an adult and as such will require a ticket to be purchased.
Our hunts are designed to adhere to any restrictions/recommendations that are in place at the time. All tickets will be fully refunded if hunts need to be cancelled or guests are unable to attend due to COVID-19 restrictions.
These sessions are a snapshot truffle experience. We also run full day grower seminars developed for those interested in growing truffles. Refer to our growing website for details. https://trufficulture.com.au